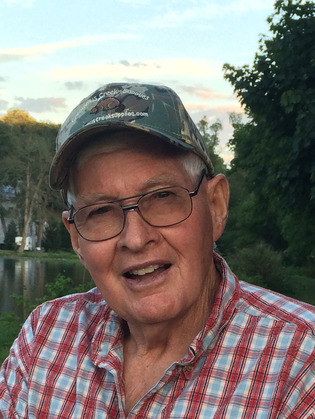 Donald E. "Dutch" Elsasser, 78, of McAlisterville passed away on June 29, 2017.  Dutch was born on February 23, 1939, in Fayette Township, Juniata County.  On June 10, 2006 he married his surviving wife, Rebecca L. (Landis) Elsasser, with whom he was blessed to share more than 11 years of marriage.
In addition to his wife, he is survived by his children, Douglas R. Elsasser and his wife Michelle, of Cocolamus, Cassi L. Stouffer and her husband Tom, of McAlisterville, Donna L. O'Neill and her husband Mark, of Southbury, CT, Wendy S. Elsasser, Kayla M. Hoke both of McAlisterville; a brother, Kenneth R. Elsasser, of McAlisterville, 9 precious grandchildren, Andrew, Andrea, Patrick, Tara, Robert, Walker, Zane, C.J., Austin; also he leaves behind his great grandchildren, Logan, Camden, Owen, Kyle, Saoirse, and Parker and 2 very special 4 legged children, Annie and Jackie.   A brother, Joseph W. Elsasser, preceded him in death.
     His memberships included Brown's United Methodist Church, McAlisterville, the PA Farm Bureau, Fayette Sportsman Club, Lost Creek Trout Club, NRA, and a life member of the Pennsylvania Trappers Association (life member #147).  His favorite hobbies and pastimes were hunting and trapping, playing ping pong, pitching horse shoes and playing the card game Hoss.
     Very early in life, he sold and repaired bicycles until working in the mailroom for PennDOT, Harrisburg.  Later he started raising beef cattle on the family farm and then operated a sawmill.  "Dutch" is best known for his fur trading business, Cocolamus Creek Supply, which he had operated for more than 50 years buying furs and ginseng and providing a full line of trapping supplies to his customers.  In 1976 Cocolamus Creek Supply moved into the former Smith Store in Cocolamus and began selling groceries and sporting goods.  Mr. Elsasser also owned and operated Cocolamus Creek Rentals, Dutch's Auto Sales, Sandee's Place, and a sporting goods store in Mifflin.  In 1986, he started Cocolamus Creek Disposal and also operated Hollow Farm Retreat and owned the Cocolamus Lake.
     The last few years Dutch held an annual customer appreciation day at Cocolamus Lake nicknamed "Dutch Day".  Food and drinks were provided and there were giveaways of trapping supplies and trapping demonstrations.  Many remember him especially promoting trapping with the younger outdoorsmen and women at Dutch Day.  The event grew each year with many trappers from all over Pennsylvania attending.
     Dutch's greatest passion in regards to the trapping industry was fur trading.  He bought furs nationwide and internationally having many contacts in Canada.  Dutch was a staple at the PA fur sales and was a major player in regards to quantities purchased.  Dutch also attended and bought fur at auctions in surrounding states like New York and Virginia.  Dutch was well known for paying good prices for fur, and often one could tell if he attended an auction by looking at the averages.
     He attended many national and state conventions and could usually be found in the tailgater section with his trailer providing a full line of trapping supplies.  Dutch even had his own lure line which he formulated himself and sold under the Cocolamus Creek label.  Anyone who did business with Dutch knew he did not like to be undersold and most times offered the lowest prices on traps at the conventions he attended.  It was at these many conventions that Dutch got to know a lot of his customers and his customers got to hear his signature catch phrase, "Are you with me?"